Galleries:
FREE ADMISSION
Tuesday - Saturday 10am - 5pm
11am - 4pm from 1st November
Closed Sundays, Mondays and Bank Holidays
(unless otherwise stated)
To see details of previous Galleries - click here
---
Wyss Foundation
Online Salon des Refusés
Eastern O7pen
King's Lynn Arts Centre
Shakespeare Barn, Fermoy Gallery, Red Barn Gallery, Old Warehouse
+ Offsite projects: Edge, Doric, Bookends
29 King Street King's Lynn Norfolk PE30 1HA
Open 10am – 5pm Tuesday - Saturday
Telephone 01553 779095
For the Online Salon des Refusés 10 artists were plucked for global stardom in person by Loren and Judy Wyss of the Wyss Foundation.

Their newest initiative was designed to redress the balance for those who did not find favour with the official panel, by giving them mass exposure through the Arts Centre's website!
Each artist also received a £50 cash award.
---
Marit Ammerud
Waking Up
mixed media
£175.00


Karin Forman
Growing Pains
mixed media
£325.00

John Gray
Cowgate Bickers
oil on canvas
£3,500.00

Jerome Hunt
Rue De Sebastopol
silkscreen
£195.00

Sue Jarvis
Moonshine
Acrylic
£240.00

Clare Johnson
The Crown of South Quay
screen & mono print
£295.00

Arturo S Limbo
Multitude
collage
Not for sale

Richard Neal
Albi Liked Ice Cream
watercolour
£400.00

Colin Wheeler
Joy and Apprehension at Highbury
pencil
£300.00

Mark Whittle-Bruce
Virginia Water, Leaves and Isobel Miller
oil on canvas
£1,200.00



Most of these works are for sale.

For enquiries or sales please call the Arts Centre Galleries on 01553 779095
---

EASTERN OPEN 2007 – CALL FOR ENTRIES
Submissions: 23 & 24 February
Exhibition: 17 March - 5 May
Galleries: Shakespeare Barn, Fermoy Gallery, Red Barn & Old Warehouse
Eligibility: Aged 16+ living in one of the 7 counties Beds, Cambs, Essex, Herts, Lincs, Norfolk & Suffolk Type: 2D works in any medium Size: Maximum 60" on any side including frame and projecting no more than 4" Fee: £7 per work up to 3 works
To Enter: For entry forms, available in January, call or send an s.a.e. to:
King's Lynn Arts Centre
29 King Street King's Lynn PE30 1HA
01553 779095
Click here to download the entry form.

---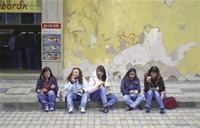 EASTERN OPEN 2007
Now in its 38th year, the Eastern Open is still the largest and longest running regional open competition in the country, annually attracting over 600 entries.
Drawn from 7 counties in the eastern region it is selected by 3 high profile judges who this year include Kira Kim, international new media artist and Jari Lager, Director of Union Gallery, London. There is over £3,500 to be won over several disciplines including £2000 'Best in the Show' and not forgetting the Doric Arts spotlight exhibition which will be concurrently on display. As always the Eastern Open provides the opportunity for a broad range of artists on all levels to exhibit together, creating an exciting, eclectic and diverse mixed show at affordable prices. Alongside the show is the ever popular postcard exhibition where a mini artwork can be snapped up for just £15!
---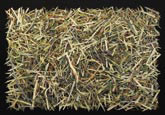 EASTERN OPEN 07
Edge
This year, the King's Lynn Arts Centre launches an off-site exhibition project, Edge, in addition to the much celebrated Eastern Open. Whilst Eastern Open honours and promotes the wide-ranging talent and interests in two dimensional art, this new project aims to emphasise other aspects of contemporary art that are beyond flat surfaces. Curated especially for the occasion, Edge will take place at selected venues in King's Lynn town centre, perhaps surprising ordinary shoppers and passers-by as well as art lovers. Venues and dates to be confirmed. See gallery summer brochure or contact the gallery for details on 01553 779095.
---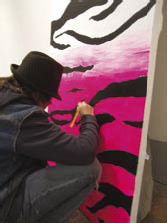 ARTS AWARD
Red Barn
10am - 4pm (Course of Five)
Sunday's 28 January, 18 February, 18 March,
15 April & 27 May
01553 779095 TO RESERVE A PLACE
PLACES LIMITED. FIRST COME FIRST SERVED.
Ring to reserve your place on this course of five. This course is free although there will be a small charge for members packs and evaluation.
Aged between 13 and 15 and interested in art? Fancy gaining a recognised accreditation for your work? Want the chance to meet real artists, pass on new found skills and even have your own exhibition? Why not come along to Arts Award, where you can devise and execute your own arts project in any field you're interested in, whether it's painting, sculpture, film-making, photography, animation, design or even non-visual arts practices such as poetry or creative writing. Like the Duke of Edinburgh's award, the Arts Award is split into three achievable stages: bronze, silver and gold and any one award can be achieved over this series of Sunday sessions. These workshops will involve informal talks from practicing artists, specialist advice in how to gain your award and warm-up activities that will help you think about your long term projects. Nick Neal, Asisstant Arts & Education Officer.
---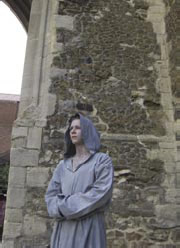 KULT THEATRE
February is Oscar month - and it's just as well, as King's Lynn has some new talent for the Academy's consideration! The Arts Centre's very own Kult Theatre Company has been busy on projects throughout the winter months. They've already performed in front of the Mayor and shown off their skills on radio! This season hopes to involve our young actors in the decision making on future projects; from the kernel of an idea to the polished production itself. Our current group is fully subscribed, but if you would like to put your name on the waiting list please call 01553 779095.
---
OFFSITE | Embodying the Past, Engendering the Future
Contemporary Art at Oxburgh Hall, Norfolk
'Fresh Interventions'
14th April - 28th June
'Liu Jianhua: Regular/Fragile'
7th July - 13th September
The first exhibition of this scale for Oxburgh, the Hall is hosting new contemporary art exhibitions by regional and international artists who use this atmospheric National Trust property as inspiration for their work. Curated by Dr Sook-Kyung Lee, Curatorial Fellow in Cultural Diversity of the King's Lynn Arts Centre, these exhibitions showcase the work of a major international artist Liu Jianhua as well as regional artists from the East of England.
'Fresh Interventions' opens in April and features emerging artists based around King's Lynn, Wil Bolton, Joyce Layton, Alexander Paterson and Diana Stickley. The artists will respond to the site to produce new works, including sculpture, installation and sound art.
The second exhibition in association with 'Embodying the Past, Engendering the Future' Contemporary Art at Oxburgh Hall, presenting one of the leading international artists, Liu Jianhua, showing his large-scale installation 'Regular/Fragile' along with a new site specific work that responds to the history of Oxburgh Hall.
For the opening hours and entrance charge, contact Oxburgh Hall on 01366 328258.
---
King's Lynn Captain Vancouver Festival
21st - 24th June 2007
The Borough Council of King's Lynn & West Norfolk is proud to be celebrating the 250th birthday of Captain George Vancouver with a long weekend of festivities. There will be events for all ages to enjoy, many of which will be free.
Captain George Vancouver was born in King's Lynn in 1757 and sailed with Captain Cook as a young midshipman. His later explorations and meticulous surveying literally put onto the map of the world the intricacies of the North West coast of America, an achievement that places him in the first rank of marine surveyors.
Over the Festival weekend, King's Lynn will be buzzing with dancing, interactive historical drama, a people's banquet, street entertainment, a feast of live music including a mini folk festival, exhibitions, lectures, maritime demonstrations and crafts, traditional seafood and much more. Come and see the magnificent tall-ship, The Earl of Pembroke. She will sail up-river to the Boal Quay on the morning of the 21st June, where she will moor for the festival weekend.
A spectacular weekend for all the family to enjoy, staged within the heart of King's Lynn's fabulous historic buildings and quayside.
---
College of West Anglia | BA FA 07
15th - 26th May | Shakespeare Barn, Fermoy Gallery & Old Warehouse
The BA (Hons) Fine Art Degree at the College of West Anglia is now firmly established and continues its successful collaboration with King's Lynn Arts Centre. The work on show from this year's graduating students develops ideas and techniques to produce sophisticated responses in the form of drawings, paintings, sculptures, ceramics, photographs, collage, assemblage and crafted objects. The list of media involved may be familiar, but what these artists have done will surprise, provoke and delight!
Exhibiting artists: Clare Bix, Gary Bracken, Mary Crofts, Denise 'Tod' Evans, Karin Forman, Sally Hale, Sheila Hine, Rosemary Hoath, Lucy McGann, Liz Murfitt, Jill North, Lynne Potrykus, Lyn Robertson, Eileen Rolfe, Helen Roll, Chris Sunley.
Photo Credit: Green, Liz Murfitt
---
Julian Walker | Words and Forgetting
Red Barn Gallery
Open Pre Festival 14th - 28th July | Mon - Sat 10am - 5.30pm | Sun 22nd July 2pm - 6pm
Post Festival 31st July - 18th August 10 – 5pm | Closed Sundays & Mondays
Artist Julian Walker unearths memories to reawaken the forgotten via meticulously researched and presented installations, which are both satisfying and bewildering in their magnitude. To coincide with the 250th Anniversary of the birth of George Vancouver in King's Lynn in 1757 a grid of 3737 fragments of domestic and personal 18th Century objects, as well as building and shipping materials will absorb the viewer's attention, as they reflect upon the reputation and achievements of this local hero's global impact.
Walker then embodies the language of such expeditions of discovery and appropriation via a systematic labelling of each item. You will encounter place names bestowed by Vancouver upon new territories, the idiom of early traders and words transferred to our culture from the First Nation Peoples.
The modular and formulaic installation should not belie the great capacity for the imagination of the viewer to piece together these memory fragments to recapture the past.
---
Vancouver Insight
Shakespeare Barn | 14th July - 18th August
This fascinating international exhibition features the incisive work of 4 Vancouver based artists and provides us with an insight into a range of contemporary practice in British Columbia, Canada today.
Dana Claxton is a First Nations artist of Lakota (Sioux) descent whose film 'The Red Paper' portrays the European colonialization of the New World from the viewpoint of the aboriginal people as a barbaric invasion and appropriation of land. Her scenario uses faux Elizabethan costume to parody the 'heroic discovery' account as celebrated and reinforced by history.
www.danaclaxton.com

Artist Scot Keefer (my name is scot) has set 'In the Footsteps of Madillah' in the centre of Vancouver's downtown eastside, reputedly the poorest postal code in Canada and now site of a massive real estate 'revitalization'. Enter Madillah, a mythical, feral human of local legend, unearthed during recent excavations and on the run, looking for a place to hide.

At first glance Scott McFarland's photographs appear as a true record of the lavish gardens of the well heeled in Vancouver society in keeping with the notion that 'the camera never lies'. Closer inspection, however, reveals evidence of digital reconfiguring – flowers blooming together out of season and shadows that belie their origins. These horticultural havens are, in fact, laboured landscapes formed through the photographer's meticulous composition and re-vision, alluding perhaps to the staged early photographs of William Fox Talbot .
www.union-gallery.com

Fae Marie Logie's video installation, Scale 1:10,000 refers directly to Captain George Vancouver's survey of the inlets and islands of the northwest coast of North America which began in 1792. A one mile section of surveying tape of 'Indian Arm' is included by the artist to refer to the north arm of the Burrard Inlet, not navigated by Vancouver who was 'certain that it possibly could not run far', thereby filling a gap.
---
Liu Jianhua: Regular / Fragile
Fermoy Gallery | 14th July -18th August
King's Lynn Arts Centre Galleries present the work of Liu Jianhua, the leading Chinese artist who is known for large scale installations as well as intricate fibreglass and ceramic sculptures. His work has been exhibited at prestigious international art events such as Venice Biennale, Singapore Biennale and Shanghai Biennale and at art museums and galleries worldwide, including Centre Pompidou, Tate and Irish Museum of Modern Art.
The work exhibited is Regular/Fragile, a large-scale installation consisting of over 1,000 pieces of white porcelain ceramic which was the work selected for Liu's representation of China at Venice Biennale 2003. It is one of the artist's best known works and has been received enthusiastically by international art world. The exhibition at the Arts Centre coincides with a parallel exhibition at Oxburgh Hall, a nearby National Trust property, providing visitors with a unique opportunity to experience the artist's seminal work in a contrasting environment and context – an historic 15th century moated manor house and a 'white cube' contemporary art gallery.
Trained at the manufacturing section of the Jingdezhen Pottery and Porcelain Sculpturing Factory and later at the Fine Arts Department, Prof. Liu now teaches sculpture in the Fine Art Academy of Shanghai University. This exhibition is curated by Dr Sook-Kyung Lee, Curatorial Fellow in Cultural Diversity.
---
OFFSITE |John M. Horton, CSMA, FCA | Marine Artist | Vancouver's Legacy
Council Chamber, Town Hall | 16th - 28th July | Open 10am - 5pm (Closed on Sunday)
John Horton's long love affair with the sea is the foundation upon which he established his pre-eminence as an internationally recognized marine artist. Having served in the Royal Navy he emigrated to Vancouver, Canada in 1966 and found there the perfect milieu for his inspiration. Concerned to address the apparent injustice meted out to the 18th century explorer, Captain Vancouver, which caused his achievements to be overlooked in his life time, Horton has dedicated a large body of his work to re-establishing the great Captain's reputation. In this definitive collection of work, Horton documents Vancouver's famous Pacific West Coast expedition aboard HMS "Discovery" and "Chatham". Some of the most significant events that punctuated this difficult voyage have been skilfully and accurately reproduced. Horton himself re-sailed Vancouver's entire 1792-94 voyages along the coast of North America, studying the original naval plans, paintings, sketches, charts and journals. This attention to detailed research ensures that these works bear the credibility that is John Horton's trademark. They are intended as a tribute to the incredible courage, competence, loyalty and obedience to King and country shown by Captain Vancouver, his officers and men.